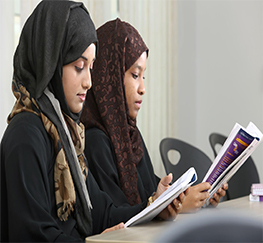 Important Announcement for DU Students
Dear Valued Students
We would like to announce that all classes will resume on Monday 23rd March 2020 using DU Moodle only as DU campus remains closed until further notice.
In order to attend and resume your study, please read the following:
Login to your DU Moodle (available on DU Website www.du.edu.om). You will see all of your registered courses for this semester (same way you were doing before).
Click on any course to access all learning materials provided to you by your instructor (Word file, ppt files, video and e-books links, etc.). The material is available anytime
(24/7).
For live interactions with your instructors, login to Moodle at the exact scheduled times of your courses as mentioned in your current study schedule. For example you have class of ENGL203 on Wednesday at 9:00 o'clock, you can access your Moodle at this exact time and interact with your instructor and other classmates during your
scheduled class time, say 9:00 to 9:50.
We urge you to join us in the excitement of the e-learning opportunity.
We are available to help you to answer all your queries and concerns. For this,hereunder are our numbers that you can contact us through:
For any IT technical inquiries: (DU Moodle, email, SIS account):71523638 / 93680104
For Registration & Post Graduate Issues:92610827
For Admission & Scholarships issues:71147905
For CAAS course-related issues:7193 1920
For CCBA course-related issues:92468218
For CE course-related issues:71542847
For CL course-related issues:99138972
Along with this announcement, kindly find the Moodle Manual for detailed and simple instructions on how to use Moodle to ensure hassle-free teaching/learning delivery!
Read in Arabic