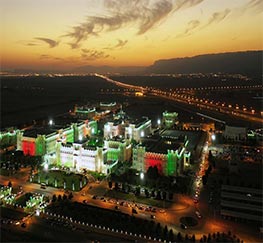 Attention for Students
Valued Students!
DU would like to draw the attention of its valued students that it has been saving no efforts to overcome the challenges to make the e-learning alternative succeed. This comes due to the worldwide, including Oman, situation related to the pandemic of COVID-19. DU would expresses its appreciation to the positive cooperation from its students to avoid postponement the study to September 2020.
For this, DU would like to keep you informed that it has been working on the following:
Providing a free access to the additional Internet educational platforms that facilitate direct interactions between students and their instructors. This is done by Omantel (with appreciation).

Motivating its students to use the full technical feature of the live interactions with their instructors during the scheduled lectures. Students can also retrieve their missed lectures at later time through the DU Website (Moodle).

Providing a team of volunteer students of all colleges to support their college mates to overcome any technical difficulties in the e-learning environment they may face (their names and numbers are announced).

Giving the opportunity to self-funded students to postpone their study, should they wish to, to the next semester (tuition fees will be carried forwards). They can do so through the "Petition" facility available on the DU Web site (www.du.edu.om) from 26thMarch to 02nd April 2020.

Scholarship students can do the same, if they wish to, same way mentioned in point 4 or through ASAS Web site. DU guarantees their academic and financial rights with MoHE from 26thMarch to 02nd April 2020.

Students who do not participate in the e-learning alternative nor apply for postponement of study, her/his semester will be considered "interrupted" as per the DU Bylaws in this concern.

DU has requested from MoHE to continue with the e-learning way to ensure the academic process is maintained to avoid any possible interruption that might happen given the current known situation of COVID-19. For this, DU would urge all of its students to benefit from the e-learning environment provided by the university to for their good.
Click here for Arabic