Deputy Vice Chancellor Message
Welcome to all,
It gives me great pleasure to welcome you to Dhofar University for the academic year 2019/20.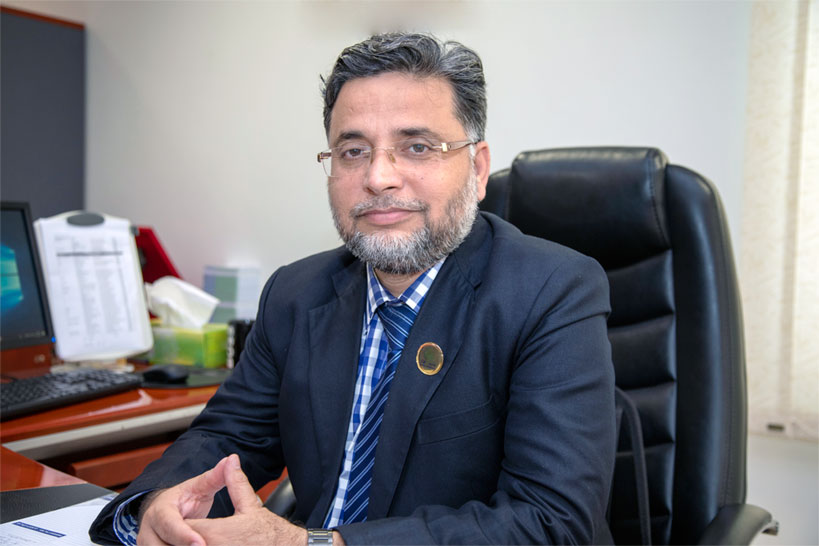 There is no doubt that this will be another exciting academic year and I look forward to seeing Dhofar University grow towards better rankings among higher education institutions in Oman. I trust that all of you are ready for new challenges.
DU aims to provide all students with an educational experience and a student journey that will not only enrich their life forever, but will also be relevant to employer needs and expectations of Oman. Last academic year more than 1400 students graduated in different fields and are entering the labour-market in their chosen professional careers that is a valuable addition to Omani workforce. At DU, students are encouraged to actively participate in research activities which is evidenced by the fact that during AY 2017-18, our students won different national level awards. Among noticeable achievements is securing the Best Faculty mentored Undergraduate Research Award in ICT sector by the students of College of Engineering awarded by The Research Council, Muscat.
During this AY, DU made noticeable improvements in 'learning environment' and 'quality teaching' by strengthening existing policies and implementing new procedures and practices, which had a significant impact on DU community at large.
On December 27, 2018, Dhofar University was the first university in the Sultanate to be granted the Institutional Accreditation from the Oman Academic Accreditation Authority (OAAA). Continuous hard working for more than 4 years, team work of all parties and sincere efforts throughout the process of academic accreditation made this achievement a reality. And this is just the beginning, now we are moving towards international accreditation such as AACSB for Business and ABET for engineering. Continuous improvement is and will remain our main drive.
The Academic Year 2017-18 was a year of significant and exceptional progress and achievements made at DU. The most significant achievements include the approval from the Ministry of Higher Education to establish the College of Law and the initial approval to establish the College of Medicine at DU. The College of Law is established with two departments; one for Public law and other for private law. Also, the College launched two new Master programs in public and private law respectively.
I invite all our faculty to conduct research; preferably with a focus on topics of interest to Oman and apply for funding from The Research Council of Oman and other international funding bodies or approved funding institutions. As an encouragement to faculty, DU provides incentives for research publications in recognized journals indexed in Scopus, Web of Science or approved list of Arabic Journals for Humanities & Law. Also, each year Research day is celebrated to recognize the efforts of our students and faculty in Research where awards are given to faculty who excel in Teaching, Research & community service. It acts as an encouragement to faculty members to excel more.
In its endeavor to become a leading research hub in the region, DU established Research centre in 2015 that is flourishing on each successive day. Its significant achievement is the submission of applications to register patents with the Ministry of Commerce & Industry, Oman. It is a recognizable achievement for a newly established centre.
I invite you to explore what DU has to offer through our new website and discover all academic programs, students' achievements and our research activities. I believe that we have to be proud by what we have achieved so far and I am confident that DU's future is brighter. Together and with your support we will accomplish our objectives and I look forward to working with you for a better future of DU.
Acting Deputy Vice Chancellor
Syed Ahsan Jamil