Vision
Dhofar University aspires to occupy a recognized position among the institutions of quality higher education.
Mission
Dhofar University strives to achieve excellence in teaching, research and community service in an open learning environment conducive to creativity and innovation and to the acquisition of cutting-edge professional knowledge.
Core Values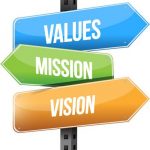 The core values of Dhofar University are:
Academic excellence
Individual responsibility
Continuous improvement
Active citizenship
Life-long learning
Graduate Attributes
Master theoretical knowledge and practical skills in the student's chosen discipline commensurate with program level and objectives.
Demonstrate capacity for effective communication, critical thinking, creativity and innovation.
Exhibit honesty, discipline and accountability.
Practice tolerance, humility, respect for differences and commitment to service.
Practice life-long learning.