Vice Chancellor Message
Dear Visitor,
Welcome to Dhofar University website. You should find all the information you need on this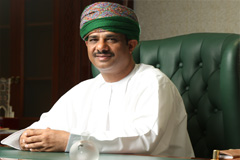 website from admission and registration to academic programs and our role in the community. Aiming to implement the university's strategic policies, the website provides electronic services and updated information to our current and prospective students and also to all those interested in our university.
Founded in 2004 by the Ministerial Decree No. 5/2004, DU is a relatively new university with high future improvement potential. It has great prospects and aims to provide better educational opportunities in the future.
Through our vision, we consider higher education as a necessity for the quality of life and success. Working in cooperation with the different sectors of society, DU strives to make significant improvements through education and research. I invite you to take a tour of the website and browse the noteworthy information available here.
On behalf of DU, I hope you enjoy and benefit from your visit to the University, whether it is through this website or in person.
Professor. Hassan Kashoob
Vice Chancellor