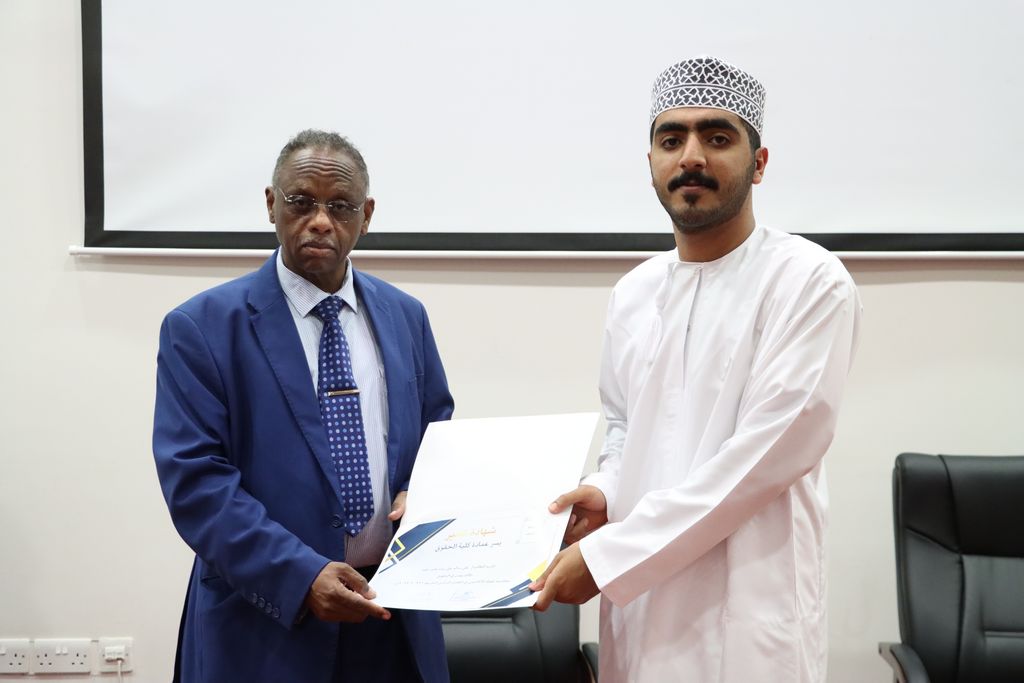 Meeting of the Dean of the College of Law with new students and honoring distinguished students
In line with the vision and mission of the College of Law at Dhofar University in refining knowledge and excellence for its students at the educational level, scientific activities and community events, and support for its faculty members, and based on communication and partnership between the college administration and its students, a meeting was held with the Dean of the College of Law at Dhofar University, Dr. Ahmed Mohamed Elzein, with new students as well as distinguished students and those participating in activities and events, both scientific and community. The meeting took place on Monday, May 29, 2023, where distinguished students were honored at the educational level, and students participated in various events and activities, whether cultural, sports or mock trial competitions. The faculty members who participated in these events were also honored, as well as those who took part in the work of the International Virtual Conference titled – Law and Challenges of the Twenty-First Century.
At the end of the meeting, Dr. Ahmed Al-Zain, Dean of the Faculty of Law, addressed the students, urging them to always strive for hard work and excellence for the betterment of their nation and society. He also congratulated the new students on their joining the distinguished academic institution of Dhofar University and wished them progress, success, and achievements like those who preceded them. In this context, he reviewed the achievements of the college at the end of last year, including achieving first place in football among the colleges of Dhofar University and obtaining gold medals, as well as obtaining second place in the commercial fraud competition organized in cooperation between the Consumer Protection Association and the University of Sharqiyah, and their second place in the cultural competition organized by Dhofar University, and the first place in the Omani Mock Court competition at the national level, in addition to the Best Litigator Award, the Best Statement of Defense Award, and the Best Statement of Claim Award.
After that, the Dean of the college listened to a dialogue and questions from students in an atmosphere of friendliness and respect, answering them transparently and clearly, based on the university's regulations. The meeting was fruitful and constructive.